Many of our visitors choose to visit more than one island on their first trip to Hawai'i.
This makes sense. Once you have spent time somewhere, met the local people, and seen a few sights, you better understand your options for future trips.
For example, you may decide to spend more time on your favorite island from your first trip during your future visits. And, you may want to go back to a couple of your favorite small towns that you remember fondly.
Hawai'i has such a variety of fun small towns it is no easy task to narrow down a list of the great ones. There are so many! As you explore Hawaii's towns, you will find many more of them which will unexpectedly capture your heart.  
We already have a few exciting and informative published blogs which can provide you with more in-depth information and details on several of today's featured small towns.
The more time you spend in the islands, you will find most of Hawaii's towns are small and full of character and individuality – it's a big part of Hawaii's charm. Each town has its own personality and ambiance. They are warm and welcoming, full of the feeling of days gone by. Many still have delightful mom-and-pop stores that we miss like a member of our family when they are gone.
We want to tell you great stories of many of our small towns, but there are just too many.
So, today we will choose a few towns that you'll find on the four main islands: Maui, O'ahu, Hawai'i (the Big Island), and Kaua'i. But, don't get us wrong, the smaller islands also have their fair share of fabulous small towns.
Naturally, since Maui is our home, let's start here, at home.
Small Towns on Maui – The Valley Isle
Hana
It is hard to say just a wee bit about Hana. You simply must go there and experience this indescribable unspoiled Hawaiian beauty. The journey and the experience of being there are breathtaking. You will never forget the delicate beauty of Hana, especially when you find Hana in your dreams. You can read more about Hana in our past blogs, Part 1, Part 2, and Part 3.
Makawao
The lovely town of Makawao is often called the crossroads of the paniolo (Hawaiian Cowboy). The town is filled with cowboy history, culture, and local residents overflowing with aloha. And, it is not unusual to see horses ridden down the street. By real cowboys!
There are specialty shops, an active arts scene, and T. Komoda Store. T. Komoda's Bakery has been baking fresh pastries and sweets that have sold out quickly since 1916. Local favorites are cream puffs, guava malasadas, and donuts on a stick. One of Makawao's original mom-and-pops!
Makawao has been home to the Fourth of July Rodeo parade for over 68 years. 
If you are a local art aficionado, consider a short drive from Makawao to Hui No'eau Visual Arts Center. It is the former home of Harry and Ethel Baldwin, built in 1917. The slow transformation to an Art Center started in 1934. Since then, it has remained a home for all artists and crafters, with many classes and workshops, craft fairs, and even the home of the Haleakalā Waldorf High School.
Lahaina
Sadly, due to the fires in August, 2023, Lahaina cannot be visited for a long time, until it is rebuilt. To learn more about this historic town, you can also read about its past and what it was like up until it was devastated by fire in these blogs: Lahaina's Past and Present. 
O'ahu – The Gathering Place
Haleiwa
First and foremost, Haleiwa is a world-renowned surf spot in the winter months. In addition, Haleiwa and O'ahu's North Shore is home to spectacular surf and surf contests every winter.  
The lifestyle is laid back, with shorts and flip-flops, and you can enjoy the local surf culture in the spring and summer when the big wave crowds are diminished. Or, pop in for the winter excitement during the big-wave surf season. Here are surfers at Banzai Beach.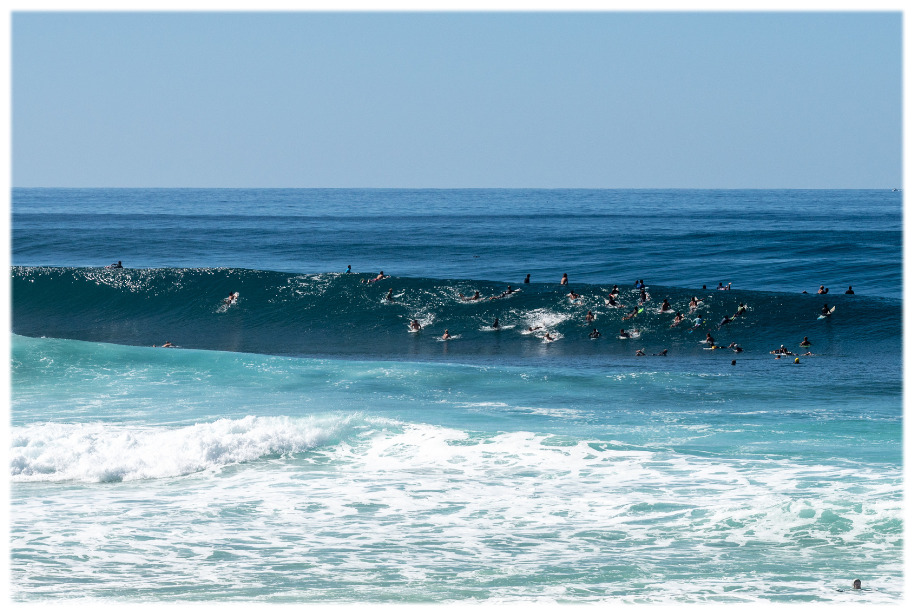 Nearby is the famous Polynesian Cultural Center. Voted one of Hawaii's #1 attractions, it is an excellent family-centered, living museum experience. You will not only learn more about Hawai'i, but you will see it in person, re-enacted in historically correct, re-created villages, with authentic dancing, food, and music.
Naturally, North Shore sunsets are epic, so make sure to find great place to stop & take it all in.
Wahiawa
Located in O'ahu's central valley, Wahiawa sits between the Wai'anae and Ko'olau Mountains that make up O'ahu.
Wahiawa is surrounded by agricultural fields, military bases, and Lake Wilson on 3 sides. Lake Wilson is also known as Kaukonahua or Wahiawa Reservoir.
Although now a tourist town, Dole Pineapple Plantation is still open to visitors and has a train ride & the world's most extensive maze. The 27 acre Wahiawa Botanical Garden also features many native and naturalized Hawaiian plants and the Kukaniloko Birthing Stones. This ancient sacred site is where royal women were taken to give birth in days gone by.
Hawai'i – The Big Island
Hilo
As the 4th largest city in Hawai'i, Hilo doesn't really qualify for a small town introduction. We include it here because it still has the small-town feeling, even though it has 45,000 people, 
Small businesses are still in the original buildings on Hilo's Bayfront Drive, repaired after the catastrophic tsunami of 1960. Many of these old buildings are deemed historic sites and will stand far into the future. 
Hilo has 2 rivers, a waterfall, and some caves you can visit without ever leaving town! Plus, it is the home of the world-renowned Merrie Monarch Hula Festival. 
Liliu'okalani Park and Coconut Island overlook Hilo Bay and are epic places to picnic and explore. And, nearby, you can get some of the best sushi I have ever had outside of Japan!
Hawi
Hawi has been called one of the best-kept secrets on the Big Island. Located in Kohala, the northernmost point of the Big Island's coastline, it overlooks the (treacherous) Alenuihaha Channel between Maui and the Big Island. On a clear day, you can see Haleakalā on Maui.
Hawi began as a bustling settlement famous for being the home of Kamehameha the Great when he was young. A statue of him still stands in Hawi town today.   
Later on, Hawi became the home of the Kohala Sugar Mill, which, after the decline of sugar exports, transitioned into a lively town with exciting shops, top-notch restaurants, and a quaint island lifestyle. Hawi is so laid back, you're going to want to spend some time here, just chillin' and watching the world flow by.
Kaua'i – The Garden Isle
Hanalei
When in Hanalei, you will find yourself completely surrounded by unspoiled, timeless, and rugged beauty. 
Nestled on Kauai's Northshore, Hanalei is backed by the 3 monumental mountain peaks called Hihimanu (left), Namolokama (middle), and Mamalahoa (right, barely showing). The valley is filled with kalo patches, and the beaches are lined with pine trees.
Hanalei Bay boasts 2 miles of golden, sandy beach. 
Nearby, Limahuli Garden and Preserve is 17 acres of stunning beauty. It is also a tropical paradise with water flowing through it from one of the wettest places on earth – Mount Waialeale.
Listen to the real story of Hanalei
sung by Dennis Pavao
– Hanalei Moon
Hanapepe
Often called Kauai's Biggest Little Town, Hanapepe was the inspiration for Kokaua Town, the fictional hometown of the main characters in Lilo and Stitch's Disney animated film. 
Hanapepe is also the headquarters for the largest ice cream chain in Hawai'i, Lapperts. 
Fun fact: Hanapepe is home to the westernmost bookstore in the United States, Talk Story.
There are 151 towns in the state of Hawai'i. Over 100 of them have less than 5000 residents. Twenty-eight have less than 1000. We could write about small towns in Hawai'i for months.  
The truth is, each one will offer you something special. Each has a different flavor, reflecting the area's unique landscape, altitude, history, micro-climate, and more. These subtle differences are easy to see once the smaller towns are compared to the busier and more touristy towns.
Writing and Graphic Design by Sugandha Ferro Black
Photos courtesy of paid or free sources unless otherwise noted.
Aerial of North Kohala | © CC BY-SA 3.0 Kanoa Withington/Wiki, Birthing Stones | © CC BY 3.0 米田賢一/wiki